Self catering Barn I - click here
Self catering Barn II - click here
Self catering Barn IIII - click here
Self catering Barn V- click here
Self catering Barn V
Supplied kit free of charge to each Barn

6.5 ltr slow cooker
Digital coffee maker
7 plastic coffee mugs, drinks tumblers and spoons
2 small Tuppaware containers for tea and sugar in the field
5ltr stainless steel push button top Thermos - for hot water in the field
1.5ltr stainless steel Thermos pour jug - for milk or soup in the field
Large and medium Thermos cooler boxes - one for large bottle of drink, one for sandwiches or hot chow


7 individual A4 field maps
1 AO full scale team maps
Sat Nav with field, supermarket, eateries locations
7 diggers
Mobile phone for daily contact
Wheatsheaf barn was built in 1715 and carefully restored by the owners in 2011 to create a stylish contemporary interior within the original fabric, using quality oak joinery and luxury fittings. The 60 foot open plan living area offers very spacious accommodation with a dramatic double height area. A feature of the property is the upstairs landing sitting room with its folding doors opening onto the outside balcony and views over the river. The river bank and local beach is a ten minute walk away through a couple of fields and you can walk both directions of the Essex Way from the house. The barn is situated on a very quiet lane leading up to the traditional farming village of Wrabness with its ancient church. The village is also the site of the house designed by the potter Grayson Perry. There is a community shop, together with a licensed cafe which is open at weekends.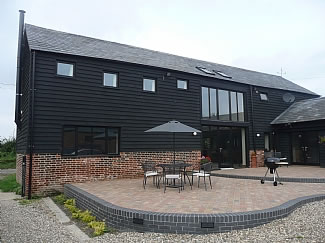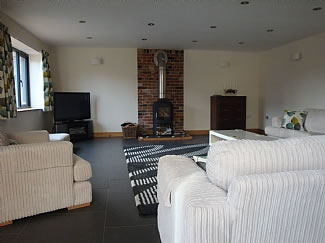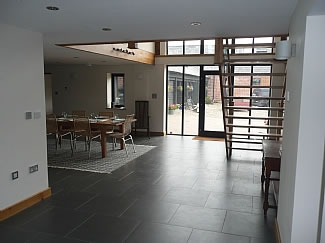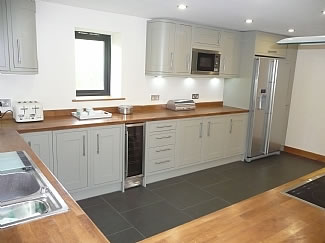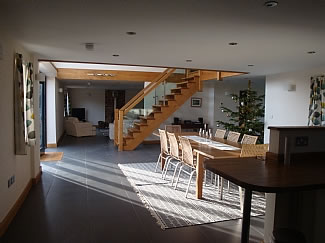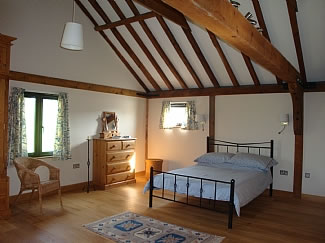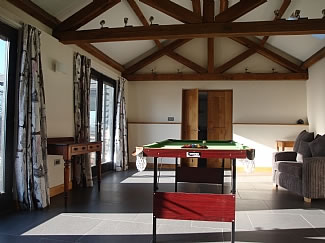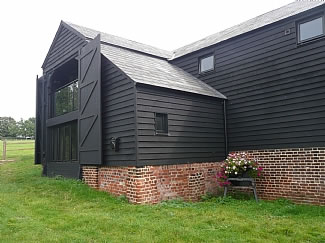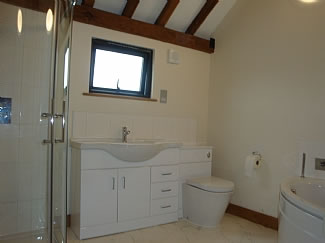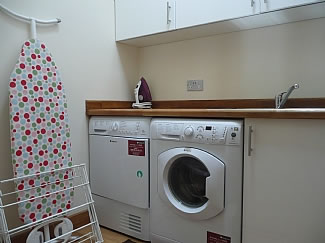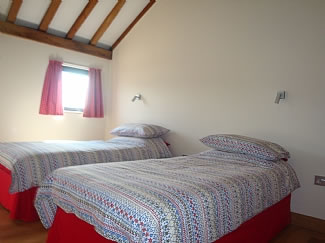 Bedrooms:
Bedroom 1 with superking or two single beds.
Bedroom 2 with two single beds.
Bedroom 3 with double bed.
Bed settees on landing area (one double) and in downstairs study (two single).
Two further double en suite bedrooms available in owners house.
Bathrooms:
En-suite to bedroom 1 with whirlpool bath and separate shower.
Family bathroom adjacent bed 2 and 3 with Whirlpool bath and separate shower.
Downstairs shower room and toilet.
Downstairs cloakroom.
Kitchen:
The kitchen with subtly painted units is part of the open plan living area. Equipped with ceramic hob; electric oven; dishwasher; microwave; fridge/freezer with ice and chilled water facility; wine cooler; food processor; kettle; toaster; extractor hood.
Utility Room:
Upstairs laundry with washing machine; tumble dryer; iron and ironing board.
Downstairs boot room with utility sink.
Living Rooms:
The open plan living area is furnished with comfortable contemporary furniture and cosily screened from the main area. Wood burner. TV and DVD. CD player radio and I-pod dock. The dining table extends to seat up to ten.
Other:
Upstairs sitting area as described, plus further downstairs study or games room. For guests who do not want to climb stairs this downstairs room has convertible bed chairs.
Cleaning/Towels/Linen/Maid service:
All linen and towels are provided, including for the cot and beach towels. Some cleaning equipment provided for your comfort during your stay plus a weekly change of linen included. Extra cleaning, or cleaning during a longer stay, is chargeable at £35.
Amenities/Facilities:
Barbecue, Parking, Garden.

Dishwasher, Fridge/Freezer, Hob/Stove, Iron, Microwave, Oven, Tumble Dryer, Washing Machine.

Central Heating, Cot, High Chair, Internet Access, TV.
Terms and Conditions
All single items found are the finders, the exception is treasure/ hoard and gold coins which are split 50/50 finder and farmer. The finder has first refusal to own the item in both disclaimed treasure/hoard or gold coins. All upheld treasure/hoard are split 50/50 with farmer and finder by law.
Colchestertreasurehunting has NO vestige interest in any finds or hoards/treasures found and the FULL 50% is paid to the finder, the other 50% is paid to the landowner.
CANCELLATIONS AND REFUNDS:
Payments made to secure the rental of the Barn are non refundable as the owner is paid in full on booking. If you are unfit prior to you holiday booking you must find an alternative member to fill you slot to get the refund.

RESPONSIBILITY:
Colchestertreasurehunting exercises every care possible. We can assume no liability for injury, damage, loss, accident, delay or irregularity in connection with the hunts of any airplane, automobile, motor coach or any other conveyance used in carrying out this tour or for the acts or defaults of any company or person engaged in conveying the passenger or in carrying out the arrangement of the tour. We cannot accept any responsibility for losses or additional expenses due to delay in air or other services, sickness, bad weather, strike, war, quarantine, acts of God or other causes beyond our control and reserve the right to make such alterations to the itinerary as may be deemed necessary for carrying out the tour. By forwarding the payment, the passenger certifies that he/she does not have any mental, physical or any other condition or disability that would create a hazard for him/herself or other passengers. Baggage is the owner's risk entirely. Tour participants understand the hazards of traveling by foot over rural terrain and plowed fields and accept the responsibility and risks of this activity. In consideration of and as part payment for the right to participate in such tour, the participant agrees to assume all of the above risks and agrees that such payment shall also constitute consent to all provisions contained herein. In addition, it is understood that Colchestertreasurehunting makes no guarantee, explicit or implied, as to the number or value of artifacts, coins or jewelry which the participant might recover, but will endeavor to provide the very best locations and sites available to them to insure the continued success of their hunts.
Important note: By sending a payment you agree to the terms and conditions on this site, treasure Act and correct exporting of finds. NO find over 50 years old can be taken home without an approved export license. All transportation to and from sites, museum visits, trip to the shops are all free and not included in the price of your trip. You can be using multiple vehicles during your stay, taxi hire, private hire from the airport, saloon car to the museum and even the farmer can drive you around his land. No exchange of money for any trip must be made as they are all free. Giving any driver of any vehicle a tip other then a registered taxi can invalidate the insurance as it now becomes for hire and reward.