Self catering Barn I - click here
Self catering Barn III - click here
Self catering Barn IIII - click here
New Self catering Barn II
Contact enquiries@essexfarmholidays.co.uk
Number of units of accommodation: 1
Sleeps from 2 to 10 people in 4 bedrooms 
Number of bathrooms: 4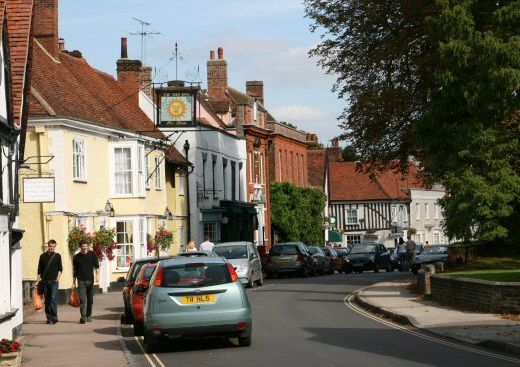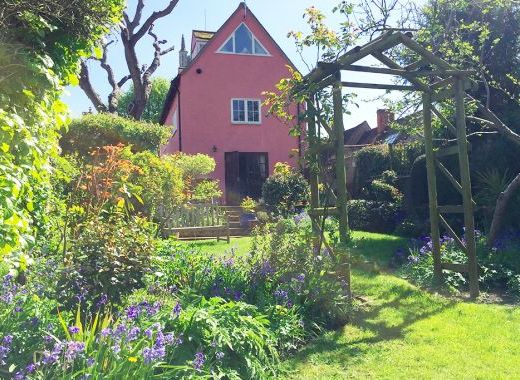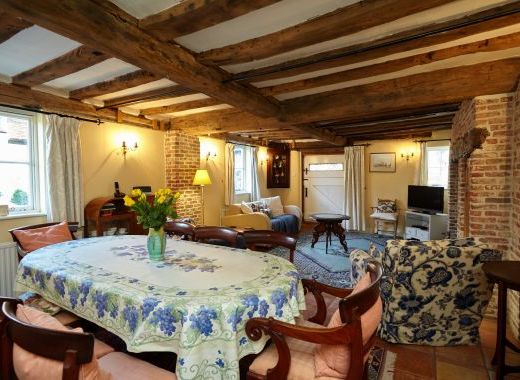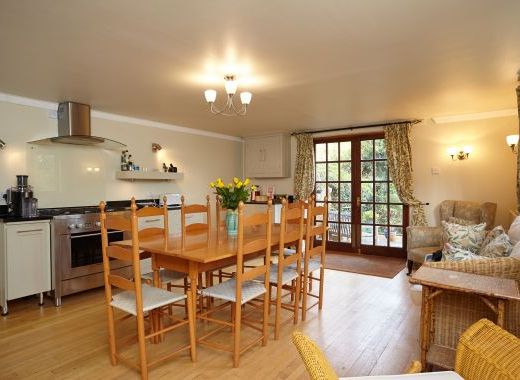 The Tallow Factory is a beautiful 16th century timber-framed cottage in the heart of Dedham village. It was featured in a BBC programme on holiday cottages in England. For most of the year it operates as a retreat centre offering bed and breakfast with yoga and meditation. However, the entire house can also be rented for self-catering, pending availability, for weekend rentals and during major holidays.  During school holidays we require a 7 night minimum booking and it is the perfect place for Christmas or New Year celebrations.


The historic village of Dedham lies on the Essex-Suffolk border surrounded by miles of unspoilt countryside.

The downstairs entrance reception leads to a spacious dining/ living room with TV (BT Youview, Apple TV, Google Chromecast), wireless broadband (bring your own laptop) and instant gas flame fireplace (there is also a comfortable double sofabed for additional guests). There is a bathroom on the same floor and a washer/dryer utility adjoining an overflow worktop with dishwasher that leads into a newly installed kitchen that opens onto the garden, (the kitchen is fully equipped with 5-ring gas stove, convection oven, fridge/freezer and microwave).

Upstairs there are 4 bedrooms - one magnificent king bedroom with an en suite bathroom, one sunny queen bedroom with en suite bathroom and a twin bedroom with two single beds that has its own bathroom directly next door) and a two-room suite on the 3rd floor with double bed and two single beds, with 1 family bathroom fitted with bath and shower.
Dollar is really strong against the pound making these trips 25 % cheaper than last season
The recent drop in the dollar rate makes our self catering tours 50% cheaper per detecting hour than the other operators meaning you get superb value and full access to all the 500 + fields available.
------------------------------------------------------------------------------------------------------------------------------------------
Drop me a mail for additional info or contact barn leader directly
enquiries@essexfarmholidays.co.uk
Terms and Conditions
All single items found are the finders, the exception is treasure/ hoard and gold coins which are split 50/50 finder and farmer. The finder has first refusal to own the item in both disclaimed treasure/hoard or gold coins. All upheld treasure/hoard are split 50/50 with farmer and finder by law.
Colchestertreasurehunting has NO vestige interest in any finds or hoards/treasures found and the FULL 50% is paid to the finder, the other 50% is paid to the landowner.
CANCELLATIONS AND REFUNDS:
Payments made to secure the rental of the Barn are non refundable as the owner is paid in full on booking. If you are unfit prior to you holiday booking you must find an alternative member to fill you slot to get the refund.
Always take out you own personal insurance to cover cancellations or illness
RESPONSIBILITY:
Colchestertreasurehunting exercises every care possible. We can assume no liability for injury, damage, loss, accident, delay or irregularity in connection with the hunts of any airplane, automobile, motor coach or any other conveyance used in carrying out this tour or for the acts or defaults of any company or person engaged in conveying the passenger or in carrying out the arrangement of the tour. We cannot accept any responsibility for losses or additional expenses due to delay in air or other services, sickness, bad weather, strike, war, quarantine, acts of God or other causes beyond our control and reserve the right to make such alterations to the itinerary as may be deemed necessary for carrying out the tour. By forwarding the payment, the passenger certifies that he/she does not have any mental, physical or any other condition or disability that would create a hazard for him/herself or other passengers. Baggage is the owner's risk entirely. Tour participants understand the hazards of traveling by foot over rural terrain and plowed fields and accept the responsibility and risks of this activity. In consideration of and as part payment for the right to participate in such tour, the participant agrees to assume all of the above risks and agrees that such payment shall also constitute consent to all provisions contained herein. In addition, it is understood that Colchestertreasurehunting makes no guarantee, explicit or implied, as to the number or value of artifacts, coins or jewelry which the participant might recover, but will endeavor to provide the very best locations and sites available to them to insure the continued success of their hunts.
Important note: By sending a payment you agree to the terms and conditions on this site, treasure Act and correct exporting of finds. NO find over 50 years old can be taken home without an approved export license. All transportation to and from sites, museum visits, trip to the shops are all free and not included in the price of your trip. You can be using multiple vehicles during your stay, taxi hire, private hire from the airport, saloon car to the museum and even the farmer can drive you around his land. No exchange of money for any trip must be made as they are all free. Giving any driver of any vehicle a tip other then a registered taxi can invalidate the insurance as it now becomes for hire and reward.